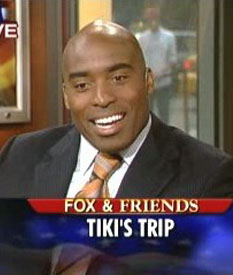 Soon-to-retire New York Giants running back Tiki Barber is in negotiations with ABC News and ESPN that would have him contribute to "Good Morning America" and perhaps ESPN's football coverage.
A report Tuesday in the New York Post said that Barber had signed a four-year, $10 million contract, but sources said Tuesday that it wasn't true.
ESPN and ABC News declined comment Tuesday.
The 10-year veteran said last year that this season would be his last in the NFL. His stellar performance in his last regular-season game Saturday against Washington gave the Giants the boost they needed to get into the playoffs.
Barber's playoff commitment — the Giants play the Philadelphia Eagles on Sunday — means that any announcement will be delayed until after his playing career is over.