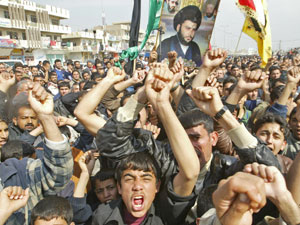 Iraq was the story of the year for 2006, occupying fully 14% of the entire newshole, according to the year-end totals for the weekday nightly newscasts of the Big Three broadcast networks. The war reclaimed the top spot after being displaced in 2005 by Hurricane Katrina, and it halted a steady decline in coverage since the war began in 2003.
Of the year's top five stories, four were continuations of long-running stories: the war in Iraq, the aftermath of Katrina, the aftermath of 9/11 and the climbing price of oil. The fifth concerned a fresh calamity: the four-week summer war between Israel and Hezbollah along the Lebanon border. Besides oil prices, the only other domestic stories to crack the top 10 were the midterm elections and the debate over illegal-immigration legislation.
The Bush administration—and supporters of its conduct of the war—has long complained that nightly news coverage of Iraq is dominated by the daily death tolls. This characterization had no basis in fact when the war started in 2003. But in 2006, for the first time, it was accurate.