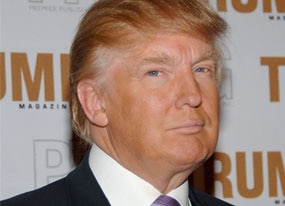 Donald Trump (and viewers) might be tiring of the job hunt, but that doesn't mean NBC's giving up on The Apprentice just yet.
A spokesperson for the Peacock said Tuesday that network programmers have not ruled out a new season of the onetime reality hit, despite a statement from Trump on Friday insisting that he was "moving on" to a "major new TV venture."
"No decision has been made," an NBC rep said, echoing execs' comments at last week's upfronts when The Apprentice was left off the schedule but not outright canceled following its lowest rated cycle yet.
The April finale of The Apprentice: Los Angeles, in which Trump hired 32-year-old attorney Stefani Shaeffer to help run one of his companies, attracted just 7.9 million viewers, slightly up from its season average of 7.5 million but a huge drop-off from the boardroom competition's glory days. In its inaugural season, the show averaged nearly 21 million viewers per episode, and more than 28 million tuned in to see Bill Rancic win the job and accompanying $250,000 salary.
[Via eonline.com]