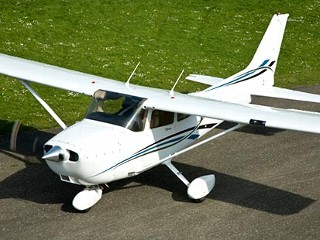 A pilot who allegedly stole a Cessna plane from a Canadian flight school and was pursued for hours across the Midwest by fighter jets, was taken into custody after he landed on a Missouri highway late today and took off running, an FBI spokesman said.
The pilot landed the single engine Cessna 172 on U.S. Highway 60 in Ellsinore, Mo., at approximately 9:50 p.m. ET, and was caught by Missouri State Highway Patrol officers, FBI spokesman Rich Kolko said.
The pilot was identified as Yavuz Berke, formerly known as Adam Leon, a 31-year-old naturalized Canadian citizen who was born in Turkey, Kolko said.
The plane had been escorted by two F-16 fighter jets since shortly after it crossed into U.S. airspace from Canada, and the pilot did not respond to multiple requests that he establish communications with ground controllers.
Keep Reading: Stolen Cessna Pursued by Jet Fighters Lands on Highway