Reading Time:
2
minutes


Look out Mom Jeans, there's a new king of tacky denim fashion. Shinesty, the online retailer known for their outlandish collection of clothing, has expanded their line of denim swimsuits to include a new denim speedo for men called the Jeado.
The Jeankini And Jeanstring For Women
Ladies looking to add some denim swimsuits to their bathing suit collection have the option of the Jacksonville Jeankini ($59.99) denim one-piece swimsuit, Daytona Jeankini bikini (top and bottom sold separately, ~$80 combined), or a thong called the Jeanstring ($14.99). All three options will be sure to turn heads while people wonder if you are actually wearing a jean swimsuit or not.
The Jeado Denim Speedo For Men
And guys don't feel left out. You can join the party with a Daytona Dong Sarong Jeado ($39.99) swim brief. These denim speedo-style briefs are fully lined inside for comfort and feature both an elastic waistband and drawstring. They too will turn heads and prove to everyone around you that you are fearless when it comes to your fashion choices.
Jean-Printed Swimwear, Not Actual Jeans
And unlike actually swimming in jeans or *gag* jorts (cutoff jean shorts), the Jeado, Jeanstring, and Jeankini won't fill bulky and heavy when wet. They are really just bathing suits that have a jean design printed on them.
Denim Swimsuits Are Tacky But Tantalizing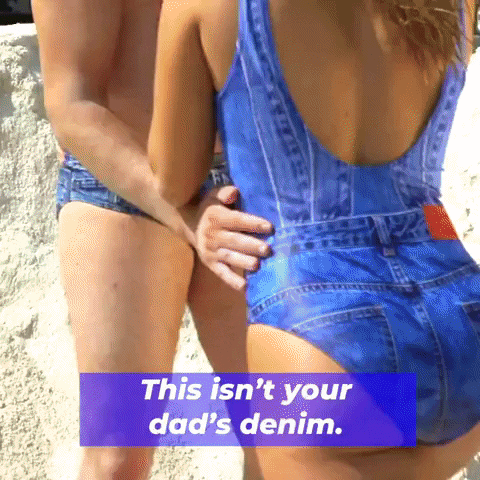 There's no doubt these jean swimsuits will ruin your summer. The Jeanstring, Jacksonville Jeankini, and Daytona Dong Sarong Jeado are as tacky as their names. But that's part of the appeal right? According to the product description, "It is like eating a bag of chips in church. Everyone looks over at you with disgust, but deep down they want some too."
Related Articles:
Frank Wilson is a retired teacher with over 30 years of combined experience in the education, small business technology, and real estate business. He now blogs as a hobby and spends most days tinkering with old computers. Wilson is passionate about tech, enjoys fishing, and loves drinking beer.