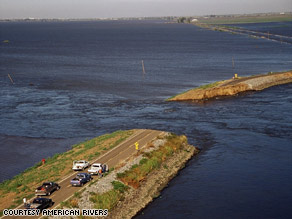 Rivers are the arteries of our infrastructure. Flowing from highlands to the sea, they breathe life into ecosystems and communities.
A levee breach in the Sacramento-San Joaquin River System could have dire effects, a new report says.
But many rivers in the United States are in trouble.
Rivers in Alaska, California and the South are among the 10 most endangered, according to a report released Tuesday by American Rivers, a leading river conservation group.
The annual report uses data from thousands of rivers groups, local governments, environmental organizations and citizen watchdogs to identify waterways under imminent threat by dams, industry or development.
Keep Reading: Report lists America's 10 most endangered rivers