Reading Time:
< 1
minute


Oh, my. In what I can only assume is a response to the Victoria's Secret Fashion Show, The Cup Size Choir is here to give you a very sexy Christmas this holiday season. The makers of ladies' unmentionables, La Senza, have a new interactive musical experience for Internet users to enjoy.
The Cup Size Choir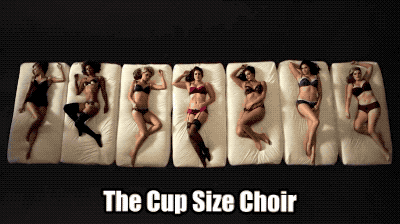 La Senza's marketing masterminds came up with the idea to match the bra cup sizes from lingerie models with notes on the musical scale (which I'll admit I'm surprised hasn't been exploited until now). It's called, believe it or not, The Cup Size Choir. Oh, yes they did.
Play your computer's keyboard to hear a dainty A-cup sing an A and a voluptuous F-cup sing, you guessed it, a breathy F. Arched backs and sultry smiles included.
A Diverse Collection Of Bra Cups And Model Sizes Represented
I feel inclined to mention accusations of "eating disorder p0rn" (sorry — buzzkill?). However, I do want to give props to the range of sexy lingerie models and bra sizes in this particular promotion. I'm also tickled at the visual of underwear models replacing bell choirs in cathedrals this Christmas Eve. Oh Holy Night, with its impossibly high G, becomes a whole new animal. Get your busty Mozart on here.
Related Posts:
Caroline Walker is a Brooklyn-based freelance writer and editor. She has worked in both the entertainment and the nonprofit sector. Walker holds a BA from the University of Southern California and an MA from New York University's Gallatin School.